Hawaiian Baked Chicken
Hawaiian Baked Chicken
206
people 👁️ing this randomly
Hawaiian Baked Chicken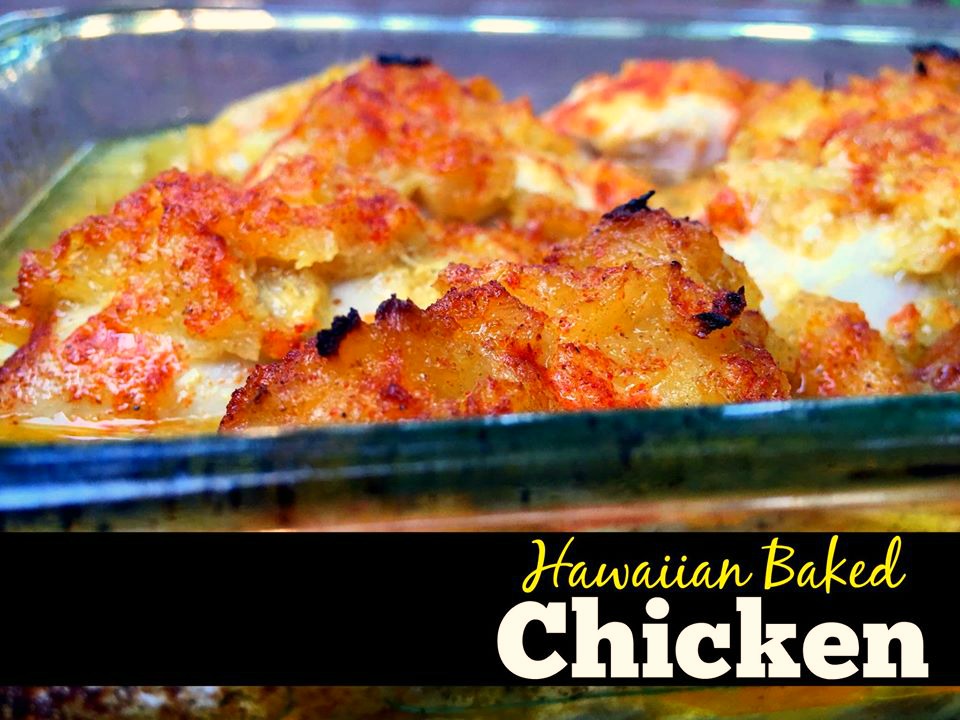 Hawaiian Baked Chicken is a fantastic and simple baked chicken dish. The sweet and tangy flavors of the pineapple and spicy brown mustard are the perfect flavor pairing.
Our family has a love/hate relationship with chicken thighs.  We all love them and Uncle Bee hates them.  hehe.  So I very very rarely make them.  If and when I do it is usually when he is travelling or has other dinner plans or I have him something as back up.  This Hawaiian Baked Chicken recipe caught my eye in an old taste of home cookbook and I knew I had to give it a try…you know… for the blog
We absolutely loved it!  We served it over some Vigo Yellow Saffron Rice with the pan sauce and oh my gosh it was good.  Dare I say even Uncle Bee liked it and I didn't even have to make him his back up Hot Pocket I had on stand by?  LOL!
The Sweet and Tangy flavors of the pineapple & spicy brown mustard are a match made in heaven!  I want to try to make wings and drumsticks this way soon!  Yum!
While you are here, here are a couple more of my most viral, popular 'fan favorite' chicken recipes, or keep scrolling for the Hawaiian Baked Chicken recipe you came for:
Hawaiian Baked Chicken

Save Recipe
Print Recipe
My Recipes My Lists My Calendar
Ingredients
3 lbs boneless, skinless chicken thighs
salt & pepper to taste
1/2 teaspoons garlic powder
2 Tablespoons melted butter
2 (8 oz) cans crushed pineapple, undrained
1/4 cup chicken broth
1/4 cup spicy brown mustard
1/4 cup honey
paprika
Instructions
Preheat oven to 400 degrees. Season chicken with salt & pepper to taste and arrange chicken in a shallow baking dish coated with cooking spray.
In a small bowl combine the melted butter, chicken broth, mustard, honey, garlic powder and pineapple.
Spoon over chicken and sprinkle with paprika. Bake for 45 minutes or until a meat thermometer reads 180 degrees.
7.8.1.2
48