scroll for the Story
~
MORE ~
Explore S.
→ Story You're Creating or Missing . . .
Your Story here :
294
people 👁️ing this randomly
Kungfu master, cross-cultural comedian, prolific film director; pop star, multi-millionaire, CCP conspirator, global philanthropist. No one wears as many hats as Hong Kong-born Jackie Chan, the Peking Opera fallout turned into a more affable Bruce Lee. In short, Chan is an icon in both Asian and international cinema.
So we at AMP take our hats off to Chan's 50+ year and 100+ movies career with our newest list, honing in on what he's best known for: his movies. Some star, some are directed by, but all include the Hong Kong-born superstar. Watch this kick-ass stunt double rise the ranks to become the legend he has become today. (All films are organized in chronological order and the selection is utterly personal, depending on the individual tastes of the writers who compiled it)
1. Spiritual Kung Fu (Lo Wei, 1978)
Yes, it is kind of strange that this one is here, since there are definitely many better movies in Jackie Chan's filmography. However, somewhere among the Shaolin monks, the book with the ultimate style of kung fu, and the ghosts who teach Yi-Lang martial arts, "Spiritual Kung Fu" definitely falls under the cult/so bad it is good category. Call it a guilty pleasure if you prefer. (Panos Kotzathanasis)
Buy This Title
2. Drunken Master (Yuen Woo-ping, 1978)
Jackie Chan's style is in its zenith here, with constant acrobatics, slapstick humor, and impressive action scenes.
Yuen Woo Ping, currently one of the most renowned action choreographers and coordinators, directed "Drunken Master" and also designed some of the most impressive action scenes of that time. His father, Simon Yuen, plays Beggar So, and Wong Chen Lee, who was famous in Hong Kong for his distinct kicking style, played Thunderfoot. Both scenes where he and Jackie Chan fight are utterly memorable. (Panos Kotzathanasis)
Buy This Title
3. Snake in the Eagle's Shadow (Yuen Woo-ping, 1978)
The movie provides comedy to the point of clowning, although the action scenes are impressive, proving the prowess of both Jackie Chan and Yuen Woo Ping in that department. The movie is very much alike "Drunken Master", which was also released in the same year with the majority of the actors reprising their roles. (Panos Kotzathanasis)
Buy This Title
4. Fearless Hyena (Jackie Chan, 1979)
"Fearless Hyena" is an important chapter of Jackie Chan's career as it's his directorial debut, and the film is not bad either! Playing his usual village boy – Shing Lung in this case – cocky, goofy and funny, the plot doesn't differ from many of Kung Fu films of that time. Lung learns Kung Fu with his grandfather, but his boasting about it results in his beloved Grandpa being killed by an old rival. Lung will then train with his uncle to learn a particular Kung Fu style and eventually … you know the end, don't you? Formulaic, but very well executed, with extremely neatly choreographed fights and a consistent stream of a comedy; when these two meet you will experience gems like a chopstick fights and a boob (Jackie in drag) fight. Heaps of youthful energy to savour. (Adriana Rosati)
Buy This Title
5. The Young Master (Jackie Chan, 1980)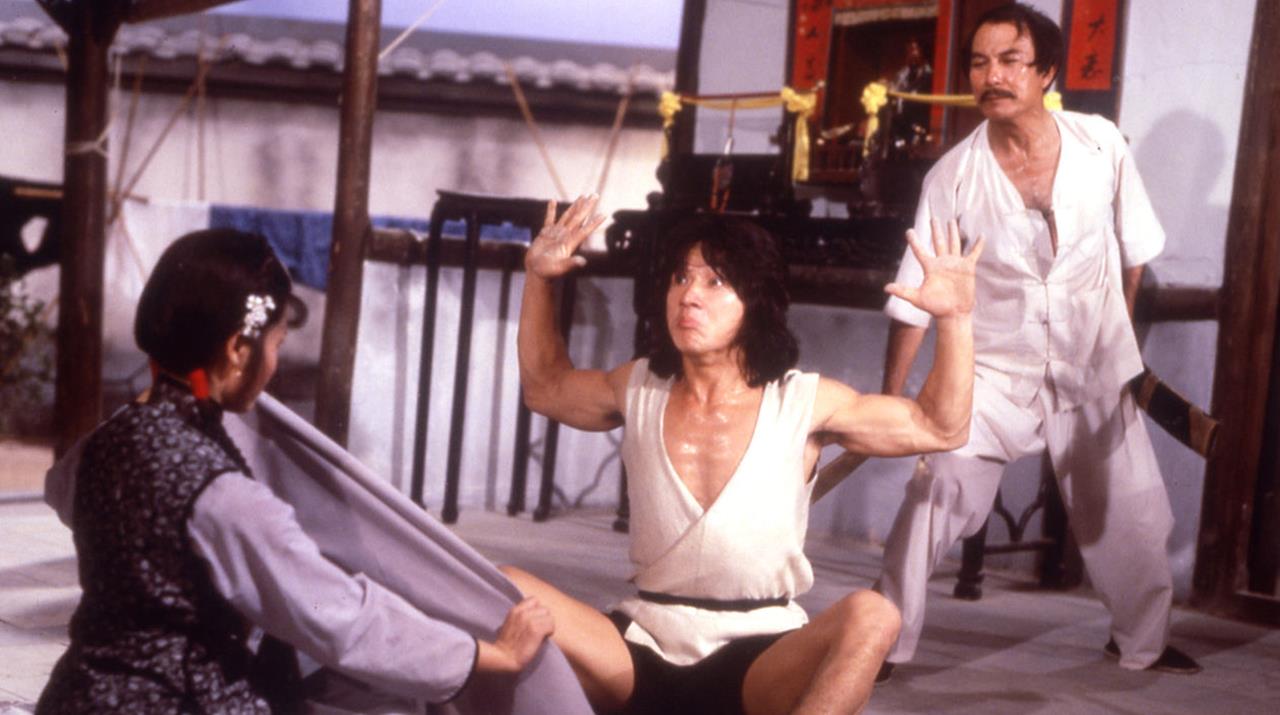 The second film Jackie Chan directed was also his first for Golden Harvest, and was initially intended to be the sequel to the "Young Master". The initial scene with the Lion Dance competition, but particularly the last, between Dragon and Kam, are amongst the most memorable in Chan's filmography. The fact that Dragon starts winning after drinking water from an opium pipe took the concept of the drunken fists a step even further. (Panos Kotzathanasis)
Buy This Title
Every action scene in "Project A" is sublime; the initial scene in the restaurant and the fight between the coast guard and the police, the one in the private club, the unrelenting chases through the streets of Hong Kong and the final battle are sequences worth watching again and again. Chan exhibited his best performance within the excellent action choreography by The Jackie Chan Stunt Team. Furthermore, the choreography, along Peter Cheung's editing and Siu-Tin Lai and Nicholas Rivera's music induces the film with an outstanding, non-stop rhythm, which presents and accompanies Jackie Chan's shenanigans in the best way. Add to that the plethora of gags, much comedy, and a splash of nonsensicality and you have the backbone of the quintessential Hong Kong action movie. (Panos Kotzathanasis)
Buy This Title
7. Winners and Sinners (Sammo Hung, 1983)
The first in the "Lucky Stars" series, "Winners and Sinners" may not completely be a "Jackie Chan film" per se, but it still features him in a prominent role. The emphasis is more on the comedy here, but the action and stunts kick off every time Jackie makes an appearance. The set pieces are very well done, particularly the car chase scene, involving Jackie's Cop 7086 giving the baddies a chase on a pair of roller skates. If anything, watch it for one of the best car pile-up scenes in cinema. (Rhythm Zaveri)
Buy This Title
Wheels on Meals" is a very entertaining film with the known mixture of martial arts and comedy. With a great cast, a wonderful setting and brilliantly edited action/fight-scenes, "Wheels on Meals" is a classic within the body of work of the three leads. Newly released in 2K as part of the Eureka! Classics-series, this is a must-have for fans of martial arts and good entertainment. (Rouven Linnarz)
Buy This Title
9. Police Story (Jackie Chan, 1985)
"Police Story" entails two of the most impressive action sequences in Jackie Chan's vast filmography: the one with the cars in the shanty town in the beginning of the film, and the one in the mall during the finale. The fact that the two of them are completely different in style and conception, with the first one involving cars wreaking havoc and the second one Jackie and his opponents doing the same by fighting with their hands, is a testament to the great work done in the department (Panos Kotzathanasis)
Buy This Title
10. Armour of God (Jackie Chan and Eric Tsang, 1986)
"Armour of God" is not a perfect film. The film's middle part, particularly, suffers in the narrative. This could be due to the fact that despite he had directed a few films by this point, Jackie was still finding his footing as a helmer. But there's no denying that it features some great action choreography and stunt sequences. By the time we reach the explosive climax, all faults are gladly forgiven. Jackie's career is defined by death-defying stunts, but it was during the shooting of "Armour of God" that he had the closest call with death. (Rhythm Zaveri)
Buy This Title
The list continues on the next page
Advertisement