10 best Nintendo Switch accessories 2020 – controllers, docks, cases
10 best Nintendo Switch accessories 2020 – controllers, docks, cases
Scroll for Your Story
Search
MORE Story
Explore S.
→ Story You're Creating or Missing . . .
Your Story here :
27
people 👁️ing this randomly
10 best Nintendo Switch accessories 2020 – controllers, docks, cases
luchschenGetty Images
So you've probably been playing a fair amount of video games over the last few months of lockdown, if not to distract yourself from what's going on, than to actually have something to do other than scroll through Netflix or bake *another* cake.
Gaming is easily one of the best ways to pass the time, and one of the most effective consoles at keeping you, your family and your friends occupied, is the Nintendo Switch.
Portable, small and packed full of great games for the hardcore gamers and light entertainment sessions, you'll be hard-pressed to find a more popular and complete gaming system.
If you have one, you'll know that the actual device itself is pretty stripped back in terms of what it offers, with a light body, two fun little controllers and a bright, punchy screen to see your games on, but there are a slew of extra accessories you can get to improve your experience, make your gaming sessions better, or just make your Switch unique to you.
Your Switch has been a faithful companion for you over the last few months – be honest, how many hours did you sink into Animal Crossing: New Horizons over the first few weeks of lockdown? – and it deserves a little tender loving care.
Check out the best Nintendo Switch accessories you can buy in 2020.
The best Nintendo Switch accessories at a glance:
1. Nintendo Switch Pro controller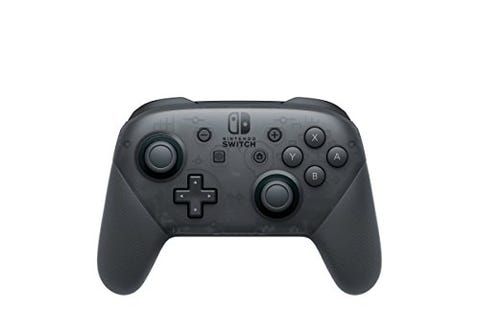 Nintendo
Nintendo Switch Pro Controller – Black
Nintendo amazon.co.uk
£64.95
Anyone who has spent any amount of time using the Switch's Joy-Cons will know that they aren't particularly conducive to playing competitive games. If you're playing Overwatch or Splatoon 2, you want that edge over your opponents, and the Pro Controller offers that extra versatility.
It won't work if you have a Switch Lite, as it's meant to be connected to your Switch when hooked up to the TV, but it's a great controller if you want to take your games seriously.
2. Nintendo Switch case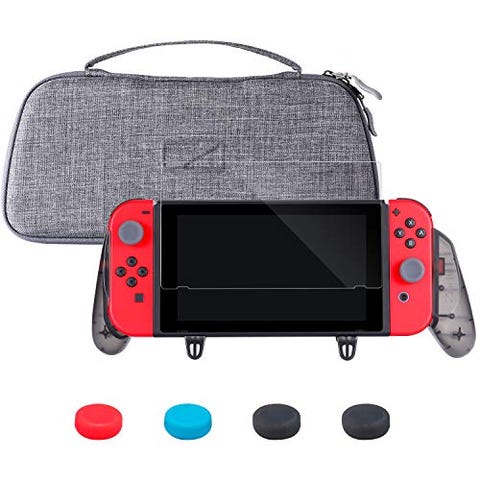 Nintendo
Zadii Ergonomic Grip Slim Case Bundle
Zadii amazon.co.uk
£31.99
One of the best things about the Switch is its portability. Take it to the park, on the plane, to the beach or just into the back garden to play games, which is a lot easier to do if you have a protective case to carry it around in.
This particular one comes with a screen protector as part of the bundle, and it's a pretty stylish grey holding case that keeps the console safe while you're out travelling.
3. Micro SD card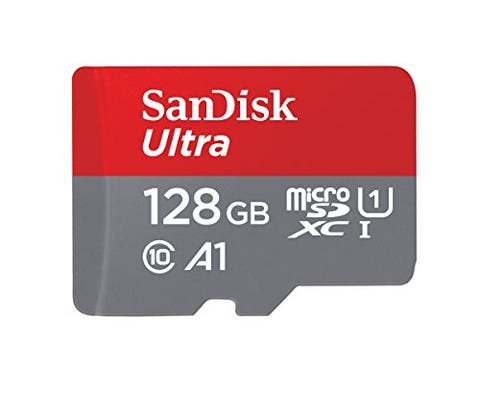 SanDisk
SanDisk Ultra 128 GB microSDXC Memory Card + SD Adapter with A1 App Performance Up to 100 MB/s, Class 10, U1
SanDisk amazon.com
US$19.12
The Switch has a reasonably sized internal memory for all your games, but you'll likely find that you quickly run out of space as your library grows and you play more, meaning you'll need to invest in an external SD card to store more games.
This Micro SD might be expensive, but it stores up to 128GB, which is way more than you need for dozens of games to play.
4. Nintendo Switch Joy-cons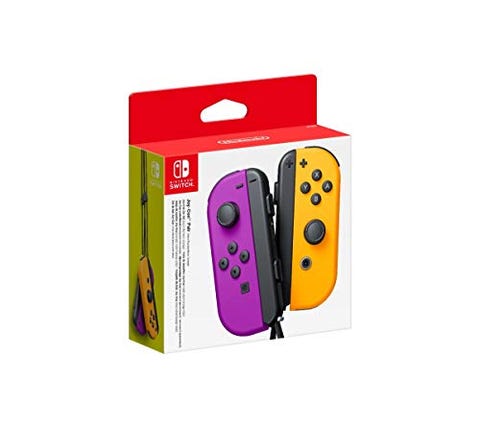 Nintendo
Joy-Con Pair Purple/Orange (Nintendo Switch)
Nintendo amazon.co.uk
£67.62
Trust us when we tell you that Joy-con floating and breaking buttons is a *real* issue that you likely will be affected by, so it's definitely worth investing in one or two spare controllers so you aren't stuck with a wonky stick when playing.
Plus, these fancy coloured joy-cons look pretty sweet, right?
5. Nintendo Switch Joy-Con Wheel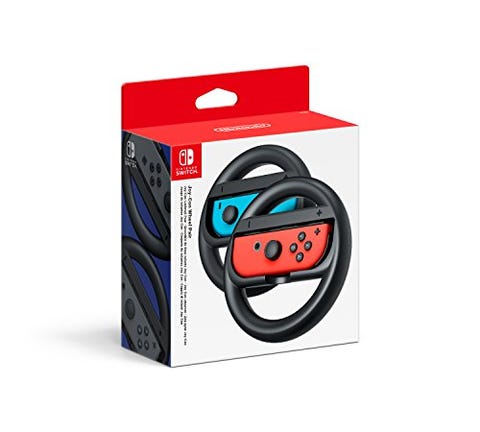 Nintendo
Nintendo Switch Joy-Con Wheel Accessory Pair
Nintendo amazon.co.uk
£13.99
We would argue that it's a cardinal sin to buy a Switch and not buy one of the many beautifully made Mario Kart games, which will ultimately prompt you to buy the Joy-Con Wheel attachment, which lets you "really" drive your 50CC Kart and beat your mates.
6. Grip Kit for Nintendo Switch Joy-Con Controllers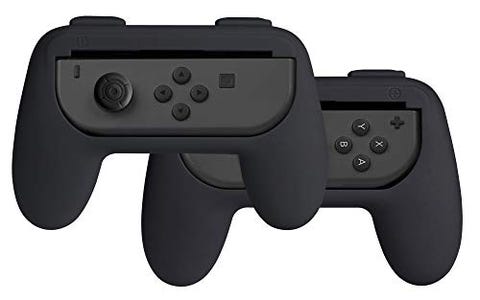 Nintendo
AmazonBasics Grip Kit for Nintendo Switch Joy-Con Controllers – Black
AMAZONBASICS amazon.co.uk
£12.99
For those bigger occasions where you have a group of people literally fighting to win your in-house SMASH tournament, picking up a couple of the Grip Kits to help you hold onto those controllers when the aggressions starts is a life-saver. They turn the joy-cons into miniature controllers and it totally changes how you play games with the remote joy-cons.
7. Anker PowerCore+ 20100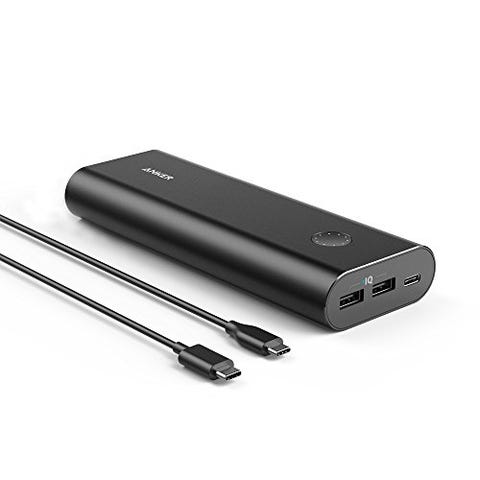 Anker
Anker PowerCore+ 20100 USB-C, Ultra-High Capacity Premium Portable Charger, 20100mAh External Battery, 6A Output Type-C Port for Galaxy S8, Macbook, Nexus 6P/5X, PowerIQ for iPhone, iPad, Samsung & More
Anker amazon.co.uk
£46.99
Easily the weakest aspect of the Switch's pitch is its battery life, which is abysmal at best, and far too short. However, if you pick up a powerbank that you can juice up with on the go, it won't hamper your gaming sessions when travelling, and you don't have to compromise your time.
8. Nintendo Switch Joy-Con Charging Dock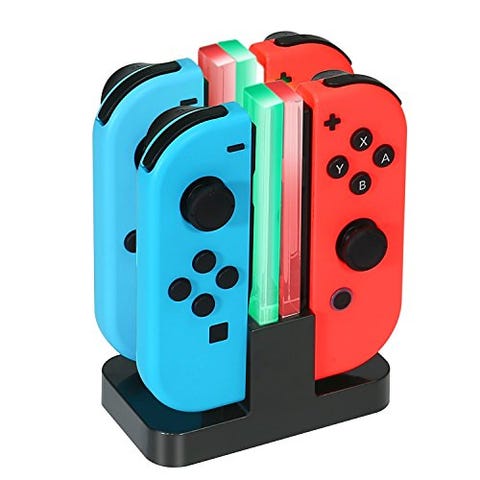 KingTop
Nintendo Switch Joy-Con Charging Dock KINGTOP 4 in 1 Charger Stand and Charging Holder with Individual LED Indicator
KINGTOP amazon.co.uk
£11.99
All that gaming and party hosting is going to be a significant drain on your joy-cons, and you'll for sure need to recharge them between rounds. This little dock can charge up to four controllers at a time and is small and minimalist enough to sit in front of your TV and still be unobtrusive.
9. HORI Switch Compact PlayStand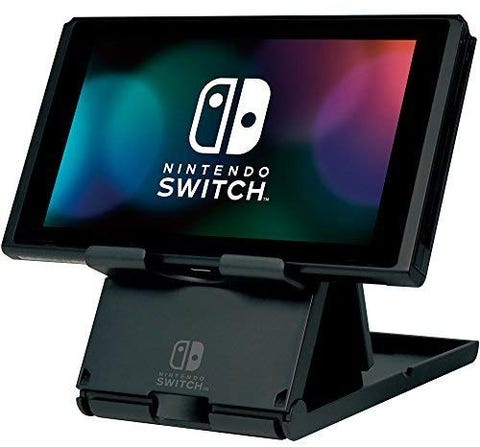 Nintendo
HORI Switch Compact PlayStand (Nintendo Switch)
Hori amazon.com
US$12.99
If you like to play your Switch game at home on your TV, this stand is definitely worth a pick-up. It lets you still see the main Switch Screen while it's plugged into your TV, and it also houses it safe and comfortably, letting you angle it perfectly for when you need more screen space.
10. Carrying Travel Case for Nintendo Switch with 21 Game Card Slots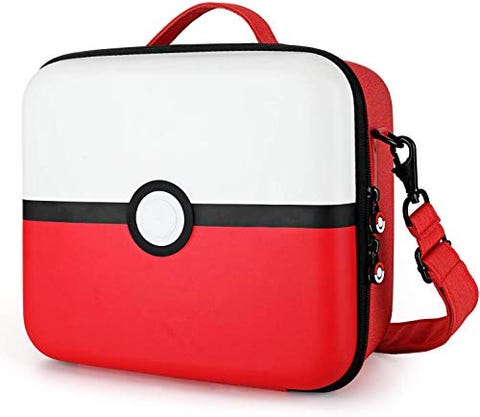 Nintendo
Carrying Travel Case for Nintendo Switch with 21 Game Card Slots, Protective EVA Hard Portable Shell Storage Case Large Capacity Pouch for Nintendo Switch Console & Accessories (Red&White)
LYCAON amazon.co.uk
£29.99
So you love Pokemon, huh? You want other people to know you love Pokemon? Say no more. This carry case is great for carrying around your Switch in a stylish Pokeball design, but it also has enough space to store 21 game cards, so you can travel around with your whole library and always have something to play.
Digital Spy now has a newsletter – sign up to get it sent straight to your inbox.
Looking for more TV recommendations and discussion? Head over to our Facebook Group to see new picks every day, and chat with other readers about what they're watching right now.
This content is created and maintained by a third party, and imported onto this page to help users provide their email addresses. You may be able to find more information about this and similar content at piano.io
This commenting section is created and maintained by a third party, and imported onto this page. You may be able to find more information on their web site.
---
Users & FEED
Total number of users: 658
Subscribe Some New Users to See FEED
Login or register to view the latest publications and comments from users for which you have subscribed.